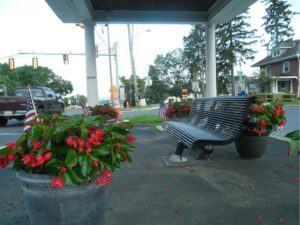 Beneath a shady portico, passengers waiting for the bus at 36th & Perkiomen Avenue in Reiffton are greeted by urns of flowers, planted and tended by Club members.
Beautification of the Reiffton mall remains its longest-running project, having started in 1963. It was a major undertaking to create a three-block-long green landscaped mall out of an unsightly, unused gravel trolley track.

Upon its completion ten years later, the mall was dedicated to Exeter Township by the Woman's Club of Reiffton. Six years after that the Club changed its name to The Woman's Club of Exeter Township to reflect the larger community we now encompass.
Mall Beautification
Presented by
Woman's Club of Reiffton to the
Township of Exeter
1963-1973